Spoiler: She does what she wants.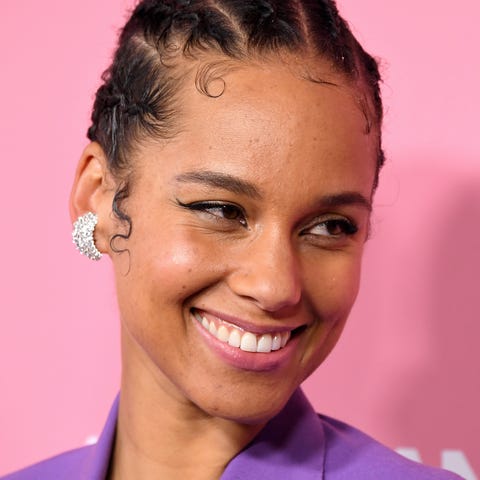 Steve Granitz 
Getty Images
If you were to say Alicia Keys doesn't wear makeup and just relies on her really great skincare routine, you'd be right. And if you were to argue that she actually does wear makeup, and you've hardcore studied the photos to prove it, you'd also be right. Sounds confusing, but—surprise, surprise—Alicia, a 15-time Grammy Award-winning musician, is not actually a one-note person (pun very much intended). Basically, she does her own thing, like the autonomous adult she is. But, still, allow me to elaborate.
Alicia made headlines back in May 2016 when she wrote a personal essay on Lenny Letter that she would be embarking on a #nomakeup journey. The reason being, in her own words, "'Cause I don't want to cover up anymore. Not my face, not my mind, not my soul, not my thoughts, not my dreams, not my struggles, not my emotional growth. Nothing."
That same year, she also dropped her album Here, and one of the tracks called "Girl Can't Be Herself" also had some very telling lyrics about her relationship with makeup:
In the morning from the minute that I wake up / What if I don't want to put on all that makeup / Who says I must conceal what I'm made of / Maybe all this Maybelline is covering my self-esteem
Because people are annoying, her choice to forgo a full-face of makeup was met with a mixed response from the haters, and over the years Alicia has spoken out on Twitter to further explain her personal decision, as well as in magazine cover interviews, on Today, Red Table Talk—you name it.
BUT (and this is an important but), her choice to stop covering her face with makeup didn't mean the musician had sworn off cosmetics completely. It just meant Alicia, a grown adult, would choose when she wore it and how much she wore and would no longer feel obligated to do so. Simple as that.
Her makeup artist, Dotti, shared in a subsequent article with W Magazinethat "makeup-free" didn't necessarily mean completely free of products forever. Minimal makeup (and a skincare routine that costs $455) was probs more like it.  You can have a #nomakeup journey as well with facials from Mira Salon and Spa, memberships coming soon.
The article pictures the 4 products used. We have included one of the best selling products from her list that is available at Mira Salon and Spa.
The article continues: To get her no-makeup makeup look, Dotti applies individual false lashes to fill in sparse brows (genius), the Anastasia Beverly Hills Brow Definer to enhance her existing freckles (also genius), the Vita Liberata Self Tanning Anti-Age Serum to bump up her glow, and the Mally Ever Colour Poreless Face Definer Mattifier to take down the shine. Lash extensions are available at Mira Salon and Spa DeKalb in Classic and Volume.
For the most part, Alicia has maintained a more natural beauty look in the years since her essay. She told Allure in February 2017, "I'm not a slave to makeup. I'm not a slave to not wearing makeup either. I get to choose at [any] given moment. That's my right."
One of those moments she chose to wear it? At the 2019 Grammy Awards. She opted for a mostly bare face but with a sheer application of foundation (Burt's Bees Goodness Glows Liquid Foundation mixed with the Complete Nourishment Facial Oil), which Dotti detailed in an interview with Glamour.  The article pictures these products as well.
The article continues: In other words, don't be surprised if you see Alicia wearing makeup at her next award show, red carpet event, magazine cover, or whatever. But also, don't be surprised if you don't. If you haven't learned by now, Alicia Keys makes her own damn rules, TYVM.  Schedule your #nomakeup routine with Mira Salon and Spa today, book here!